Open Doors With The Leading
Mobile Key Provider
OpenKey has partnered with the lock industry's biggest names to create a Universal platform able to work with any hotel in the world. Our partnerships include integration with every major PMS to offer Automated Mobile Key Delivery – an innovation that makes issuing digital keys easier and faster than ever before. 
What our Partners Are Saying
"Since inception Mews has defined itself by providing the very latest in hotel technology, and the integration with OpenKey is another great step towards Commander becoming the innovative cloud PMS for hotels. We believe that the best technology is discreet, efficient and sleek; traits that describe Automated Mobile Key Delivery perfectly."
"More and More hotels have come to realize how employing the latest technology can mean a greater focus on delivering a seamless guest experience. We are thrilled to collaborate with like-minded partners such as OpenKey who have been instrumental in driving the change that seeks to meet the evolving needs of today's travelers and the hotel where they stay."
"We seek to partner with industry leaders such as OpenKey on solutions that improve the guest experience and the bottom lite. As competition in the hotel industry continues to tighten, creating competitive differentiation through guest technology is a must. Our goal is to deliver solutions that are simple and effortless."
"This partnership extends our ability to serve our client community with best-in- class solutions as we deliver memorable, convenient, and amazing experiences to their guests."
"Initial Installations demonstrate that our partnership with OpenKey benefits operators as well as guests by streamlining the check-in process and increasing app-driven loyalty."
Miwa is a known innovator, so it makes total sense to form a partnership with the leading provider of mobile keyless entry, OpenKey. With mobile key compatibility built into every smartphone in the world today, we are excited to launch our new combined product."
Through this partnership with OpenKey, will be enabling independent hotel owners and operators to drive their mobile strategies, improve two- two way guest communications, reduce overhead, boost operations margins, and increase customer satisfaction and loyalty. We are delighted to be adding OpenKey to our growing list of technology services offered to our independent hotel customers.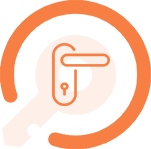 Mobile Key For Any Lock, Anywhere
As the most Universal mobile key platform, OpenKey gives hoteliers every possible option to upgrade a portfolio of hotels while offering a seamless mobile key experience
Branded Key Or Branded App
Partnerships with the leading hotel app developers makes creating a branded digital guest experience as simple as a single phone call
Automated Mobile Key Delivery
An innovation only provided by OpenKey, automated mobile key delivery allows the PMS to issue a secure digital key to the guest automatically upon check-in
The Ultimate Guest Convenience
With an SDK designed for simplicity and speed of integration OpenKey enables hotels to offer the right check-in experience for every guest from home, kiosk or front desk
Interested in becoming a partner?